About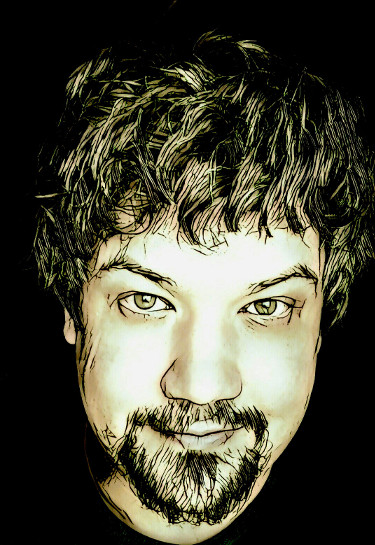 "An honest-to-god one-man show."
— George Saoulidis, author of Cyberpink and Nanodaemons
---
Hi, I'm Luke Rounda, the voice of Vernacular Audio. I read books. Sometimes I record, engineer, and produce them, too. People seem to enjoy it thus far.
No books for me to read? You can buy my voice for other kinds of projects, too. Just say hello. If you're not an IoT device, I can't wait to hear from you.
Audiobooks?
Why would I want one of those?
If you're writing books today, you should sell an audiobook version, too. There's just no good reason not to. Simple as that.
Why so? Well, if you only have a print version of your book, audio is an untapped market. It's free money for you.
As a creative writer, you probably already know that not every customer consumes your words the same way.
Some read. Others speed read (for efficiency, bragging rights, competing with musicians to be the biggest chick magnets and all that…) and still others love podcasts and audiobooks, because these bridge the gap. It's the best of both worlds! You can listen and learn while you drive, sleep, and/or clean. All the fun and reward of reading, married with all the glorious efficiency of technocratic multi-tasking. Oooh, ahhhh…
And, some folks just like to be read to. I grew up listening to old time radio and books on tape before bed, for example.
So, all of these people would toootally read your book like some sort of Boomer caveman from the '80s, if they just had the time… but, ahh man, they just can't squeeze it into their busy schedule of daily gridlock traffic, soundtracked by podcasts and impromptu vocal covers live from their family sedans… sorry, man.
tl;dr The written word is still the best medium, but in today's hyperspeed, low attention span world, even book readers need to be tossed a bone sometimes.
To make sure the story you spent so much time writing reaches all of the people who really do want to buy it, you're going to need a great voice that speaks the same vernacular you do.
That's where I can help.
Whether you've got a technical book that needs to keep the listener awake, or we're all setting sail past the clouds on a sci-fi adventure together, I can be your Easy Button.
Hire me!
If your project would benefit from narration by a crisp, engaged, authoritative yet pleasant voice, please don't let me keep you reading any longer: send me a message!
Aim my authoritative yet approachable American Male voice at the page, and let me read it for you.
Listener testimonials
Along with a strong yet pleasant American Male voice, I put my passion, knowledge, and technical expertise into every book I read, and it shows in the finished product — accumulating into a small mountain of positive feedback and ratings from Audible listeners in the last year alone:
"Great performance. The narration and sound effects made forget I was listening to a book. I thought I was listening to a movie … As much as I enjoyed the book the Audible was better."

"The narration for this is flawless and is a perfect match for the book. This might be a bit mundane in print, but the narrator manages to engage you fully in the book by virtue of his performance."

"He was invested in the material and I felt I was hearing the voice of the writer – a true sign of the perfect marriage between author and narrator."

"I loved his voice! It was much better than I expected, I thought it would be very boring because I didn't need the content but I was very wrong."

"I enjoyed his work immensely, and felt that he added a great deal to the tale. His voice is pleasant to listen to, and he can tell a good story when he gets going. I enjoyed his pacing and delivery. I could not ask for more from a narrator."

"He did an excellent job of providing a clear voice for each of the characters. I would enjoy hearing more of his work in the future."

"The narrator has an excellent voice range."

"He is clear and well paced. He provided voices and accents for each of the characters, which helped with keeping who was talking and what was going on clear. For such a short piece he was able to show his range really well."

"Very clear and easy to listen to."

"His voice kept me interested even when getting into the nitty-gritty of a job that sounded unappealing to me from the get go."

"The narrator had a pleasant voice, and he presented the material in a highly engaging manner."
Projects
Have a listen to some samples from past and ongoing Vernacular Audio projects, spanning fiction and non-fiction in topics as disparate as entrepreneurship, history, technology, philosophy, and science fiction.
Be sure to like, comment, and subscribe if you enjoy what you hear!
You can comment at me on SoundCloud, message me on Audible/ACX, e-mail, or send me a tweet. Whatever floats your boat.
audiobooks